The most important thing when it comes to handicapping horses is understanding terms and lingo, and familiarizing yourself with what terms mean in a racing program. Often subtle changes make all the difference in why a horse outperforms their odds.
Here are some terms you'll see when looking at a racing form, or terms you will hear around the racetrack from seasoned vets.
Types Of Horse Races
Maiden Races: When a racehorse has yet to win a race, they are considered a "maiden" runner. Winning their first career race constitutes "breaking your maiden." Horses without a career win are not forced into being entered into this classification, they are allowed to enter an allowance race, or even stakes race, however, most connections choose to enter a horse against similar competition.
There are different variations within maiden races. These are ranked from low to high with maiden claiming lower than a maiden special weight race.
Maiden Claiming Races: Usually lesser horses are entered here, or ones that have struggled to find success against the company of maiden special weight competitors, or just don't appear to be good enough to compete against some of the better horses.
Maiden Special Weight: These races feature top quality horses that expect to move on and compete against better runners eventually.
Claiming Races: These are the lowest class horses at the track and there is no lower classification than horses racing within the claiming ranks. Every horse entered in these races are able to be bought or "claimed" depending on the price. In order to claim horses in these, a claim must be entered before the race.
Allowance Races: This is a notch higher than claiming, and horses are allowed to carry a certain amount of weight, or less, depending on certain factors. Within these races are conditions that sometimes limit horses to be non-winners of a specific number. There is a distinct advantage with horses that carry less weight than others, and assuming they are of equal talent, the weight often makes a big difference.
Stakes Races: These races are where the top racehorses compete and usually carry the highest amount of purse money. There is often at least one stakes race on a daily racing card.
Grade 1/2/3 (Graded Stakes): The highest level is Grade 1: these are the Kentucky Derby, Preakness Stakes, Belmont Stakes and the highest caliber. These often carry the highest purse money, and are even a step up above restricted stakes, or overnight stakes. These are the top horses in the world racing at the top classification.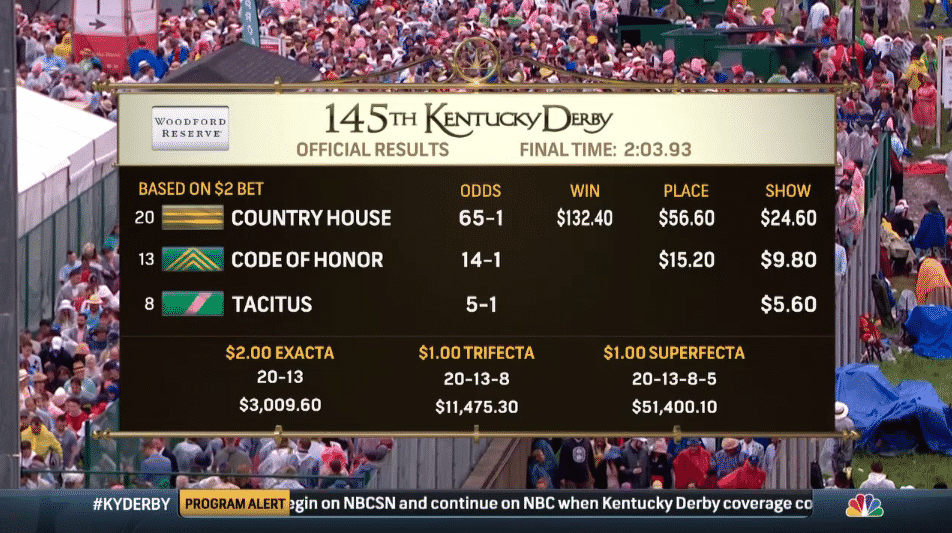 Bet Types
Across the Board: This wager refers to betting a horse to WIN+PLACE+SHOW. The bet will typically cost you $6 because you are making three $2 bets. If your horse comes in first, you collect the win, place, and show money. If a horse finishes second, you get place and show money, and if a horse finishes third, you collect the show money.
Daily Double: In order to cash this bet, you must correctly select the winner of two consecutive wagers. This is essentially a parlay wager.
Exacta Wager: The exacta requires you to select the first two finishers in order in a particular race. These often yield higher payouts than WIN/PLACE/SHOW wagers, but are less than the trifecta and superfecta. "Boxing" the selection allows the horses you choose to come in any order, so long as you select the right two runners. This costs more money than a straight two horse exacta. A $2 exacta in the 2019 Kentucky Derby paid out $3,009.
Trifecta Wager: This wager requires you to select the top three finishers in order in a particular race. For a $1 trifecta, choosing three horses, the bet will cost you $1. The more runners included, the more your wager costs, but your ticket must contain the top three finishers in order. A $1 trifecta in the 2019 Kentucky Derby produced a payout of $11,475.
Superfecta Wager: This bet requires you to select the top four finishers in order. Like the exacta and trifecta, the more runners you include, the more expensive the bet, however this bet often yields the highest returns. A $1 Superfecta in the 2019 Kentucky Derby paid out $51,400.
Pick 3/4/5/6: This is similar to a daily double wager where you are selecting the winner of 3, 4, 5, 6 consecutive races in a row. These are some of the highest payouts in a given race. In a "Pick X" wager, you must select the winner in each race. There are often consolation payouts if no single ticket holds the winning sequence.
Rainbow 6: This is a particular type of wager considered a "Jackpot Bet." This is a unique bet which only pays out the "carryover" jackpot when there is one winning ticket. Unless there is a single winning ticket (that winner claims the entire pool), 60% of the new pick six pool is paid out to players correctly picking six, and the other 40% goes into the pool until there is one sole winner. This is not offered at every track.
How Winning Wagers Are Calculated
Carryover: When there is no winning ticket on a particular wager type, example a Pick 4/5/6, then the wagers in the pool are "carried over" to the next racing day. This places more money into the pool on the next racing day. This continues to grow until there is a winning ticket.
Consolation payout: Often found in Pick 6 wagers, players without a full six race sequence winning ticket still receives a payout for a player that hits 5-out-of-6 races. These payouts are much smaller than the full payout.
Guaranteed Pool: These are often implemented in pick 4/5/6 wagers when the amount of money does not reach the amount "guaranteed" the track puts in money in order to make sure that this amount is hit. These are rare occurrences and often happen towards the end of racing meets or on major stakes days.
Minus pool: Due to minimum payouts, when an overwhelming percentage of money is placed into the show pool bet on the heavy favorite, there may not be enough money left after the track's takeout to reach the minimum payment threshold. When this occurs, the track is responsible to make up the difference.
Parimutuel Betting: This is how horse racing payouts are calculated. All the bets of a particular type are placed together in a pool. Taxes and the house take are deducted and payoff odds are calculated by sharing the pool among all winning bets.
These are why horse racing odds change. This type of betting puts bettors against one another, rather than one competing against a book like sports betting is.
Takeout: This is how a racetrack makes money. It takes a portion of each betting pool out for the track. This varies by the wager type and track, some takeouts are as high as 20%, and others 13%. The rest of the money in the pool will be divided out to tickets containing a winning wager.
Racing Surfaces
All-weather: This is a synthetic surface which is known as polytrack, cushion track, and tapeta. These are best suited for racetracks with temperamental weather conditions. Eight North American tracks have made the change from "real dirt" to an all-weather surface. These surfaces are best suited to withstand weather conditions and are believed to have reduced injuries to both horses are riders.
MTO (Main Track Only): This abbreviation refers to "main track only." Many horses scratch after weather forces a race to be moved to dirt (main track) off the turf. MTO horses are entered into a scheduled turf race anticipating the race will be switched to dirt. If the race does not move to dirt, and it continued to be ran on the turf, these horses are scratched and not entered.
Off the turf: The turf refers to horses racing on the grass. This change of surface and races being taken "off the turf" usually occurs due to heavy rainfall or bad weather where the track condition is compromised and it is unsafe to run. This can happen before a racing card begins, or during the duration of the card. It is important to be aware of which horses are scratched due to the change of surface and which of the also eligible runners draw in.
Turf tracks can be considered one of three difference ways depending on the weather:
Firm turf: This is the ideal footing and what horses race on when the track is considered very dry. This is the ideal distance, and the equivalent to a "fast" dirt.
Good: This is usually the second most ideal condition of the grass where it is a little softer than a "firm" turf surface, but far better than a "yielding"
Yielding turf: This is when the grass is softer, and often what happens due to large amounts of rain or snow. The moisture affects the track surface.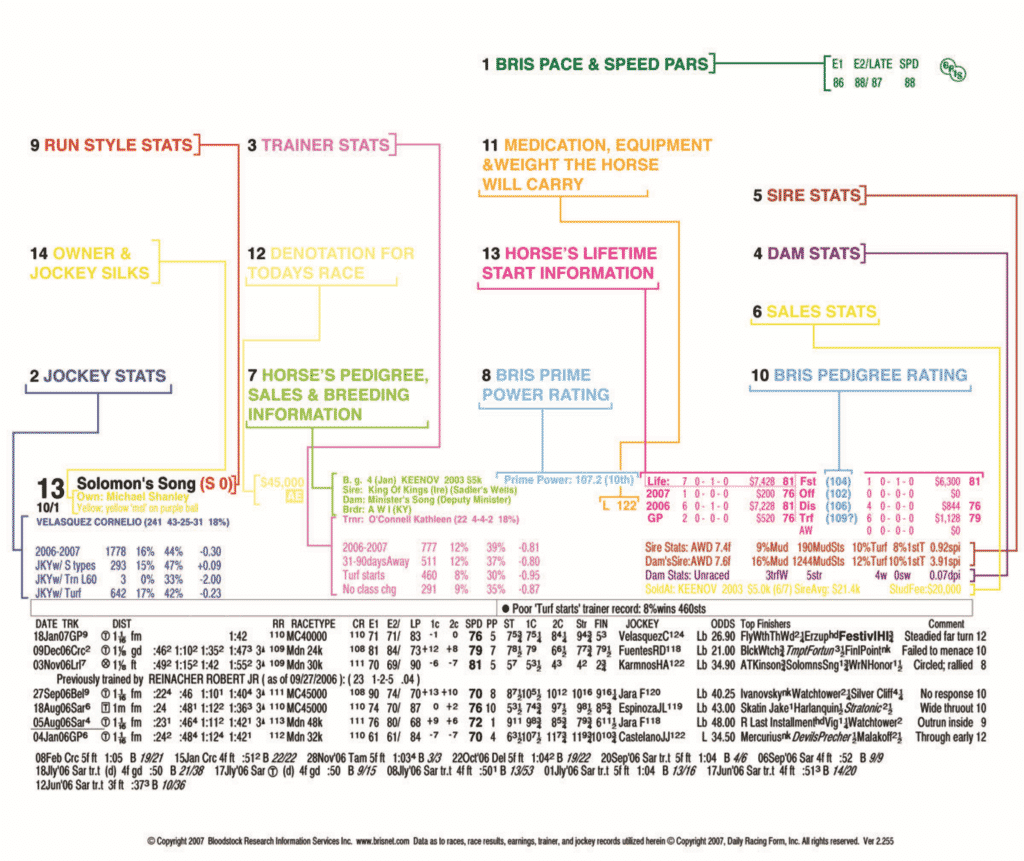 Reading A Racing Form
Also eligible (AE): These horses in a form have "AE" written beside their name. These runners are officially entered in the race, but only permitted to run if a scratch occurs. Once another runner scratches, this horse draws into the race and is eligible to reach the starting gate.
Beyer Figures: This refers to a system of racing the speed of a particular thoroughbred racehorse. Horses are given a Beyer number based on their performance. These numbers take into account how fast the recorded times are, as well as reflect the relative strength of different racing circuits.
Blinkers ON/OFF: These are also known as blinders and are a piece of horse tack that prevent horses seeing to the rear and sides. This encourages a horse to focus more on the race being ran, and the addition can often help with concentration.
Colt: This refers to a young male horse. These are under four years of age. These horses are not neutered and is indicated by the "c" on a racing program.
Coupled entry: This refers to horses that belong to one owner or racing under the same trainer in the same race. "Coupled" together means that when you bet on one horse, you also get the other. These are indicated in a form as 1A or 2A. If horse 1A wins the race, it pays the same way as if horse 1 wins.
Filly: A young female horse. Normally under four years of age.
Fractions: These are numbers that clock in at quarter mile increments in either a race or a workout. These are comparable numbers to determine speed in a race and what differentiates horses.
Furlong: This is a measure of distance to determine the length of the race. 1 Furlong = 1/8th of a mile (660 feet, 220 yards, or 201.17 meters). Usually in North American racing, the shortest distance is 5 furlongs, and can go as long as 2 miles (16 US furlongs).
Gelding: A neutered male horse.
In-foal: A female race horse in-foal is pregnant. Often arguments are made that this increases the success of a female race horse, as some runners racing pregnant have improved performances.
Lasix (furosemide): This is an anti-bleeding medication used by veterinarians to prevent respiratory bleeding in horses. This is often known as a performance enhancer, and usually a horse racing on Lasix for the first time can produce some of their best efforts.
Mare: A mature female horse, usually four years of age or older. This is also the term to refer to a female horse that has given birth.
Morning line odds: These are the odds you see in a racing program and are essentially an educated guess on what the horse will go off at post time at. These odds are placed by a track's handicapper before wagering actually starts. The number you see in the racing form does not indicate what a horse will go off at the start of the race at, as odds are constantly changing depending on the amount of money wagered by bettors.
Scratch or late scratch (SCR): This refers to horses that were initially entered but are now taken out of the race due to injury, or a change of surface. This is the decision of an owner or trainer.
In the event of a late scratch, if you are alive in a pick 4/5/6 wager (or parlay wager) and your horse is out, the post time favorite is given in replacement.
Sire/Broodmare: A sire refers to the male parent of race horse. This is a stallion kept for breeding. A broodmare a female horse used for breeding.
Need To Know Racing Lingo
Back class: "Class" refers to the quality of competition that a horse competes in. Horses that have not raced before that possess good pedigrees, are usually considered the class of the field. "Back class" refers to a horse that has had prior experience against quality runners, and should be respected. These are horses that expect to play a factor due to their prior history.
Breezing: On the East Coast, and midwest, this term refers to a workout of a horse where they are not being asked by the rider. This is a workout at moderate speed, less effort than handily.
"Bridge jumper": This refers to a bettor who places an unusually large wager on a single horse, usually to SHOW. This bettor specializes in bets on the odds-on-favorite.
Flatten out: When a horse drops his head almost in a straight line with his body during the race, the horse is considered to have flattened out. This is often an indication of exhaustion.
Gait: This refers to the way in which a horse can move – their gate is a walk, trot, canter, gallop, run.
Green horse: This refers to an inexperienced horse. It can describe the horse in general, or a specific type of behavior. For example, a horse could be "green in the starting gate" meaning he is acting up, or has no particular experience leaving the starting gate.
Handily: In workouts on the East Coast, this term refers to a workout or racing with moderate effort from the jockey. These terms are often reversed in East/West Coast lingo.
Off the board: When a horse finishes out of the top three positions, they are considered to have landed off the board. This often refers to a favorite that disappoints and finishes outside of the three top money spots.
ON/OFF the bridle: This means that the horse can no longer go any faster and cannot improve on their positioning despite the jockeys urging. A horse with plenty of run left and still with energy, is said to be "on the bridle"
"Overlay" and "underlay": Both are opposite states of odds created by the betting public. These are subjective terms based upon an individual's interpretation of the horses' odds offered.
An "overlay" occurs when you feel a horse's projected price is worth more than the current odds, and worthy of a wager, this horse is considered an "overlay". When a horse is beneath it's value, and overbet it is considered an "underlay". These horses are much shorter odds than warranted by their past performances.
Rabbit: This refers to the pacemaker/pacesetter who leads a middle or long distance event. These horses are entered to ensue a fast time, and are often sent out of the gate with the sole purpose of ensuring fast fractions. These runners usually have minimal chance of winning the race, but serve the purpose of tiring out the other front runners.
Route distance: A route in horse racing is any distance greater than 7 furlongs. Anything under that distance is considered a sprint.
Spit the bit: It refers to a horse that is giving up on the front end usually due to exhaustion. The tired horse begins to run less aggressively, backing off the "pull" that the rider normally feels from the reins on an eager horse.
Soft fractions: This refers to slower fractions. This is often beneficial to front runner horses usually left uncontested on the lead. Being able to "rate" on the lead, the horse is able to stay fresh and well rested while setting the pace.
Track bias: A bias on a racetrack is a condition which causes the track to favor one type of horse over another. Wear and tear, weather, damage to the surface can all influence a track's bias. For example, with a heavy track bias towards speed horses, front runners or horses which often flaunt faster times tend to make up the majority of winners on a racing day.
Turn of foot: This refers to a runner's ability to accelerate quickly. This is a positive trait to and horses with good turns of foot can often create separation between themselves and the others very quickly.
Under wraps: Refers to a horse that is being held back by a rider and intentionally keeping the horse from running at top speed. Using restraint.
Washed out: This is often an indicator that potentially a poor performance is looming. A washed out horse is a sweaty and nervous runner.
Well rated: To "rate" a horse means that the horse is comfortable with the pace, and the jockey is happy with the positioning. The jockey did not have to urge the horse on or force for position, therefore energy is conserved and left for the stretch and a well rated horse will typically have a lot left to make a late rally.